Why Buy Now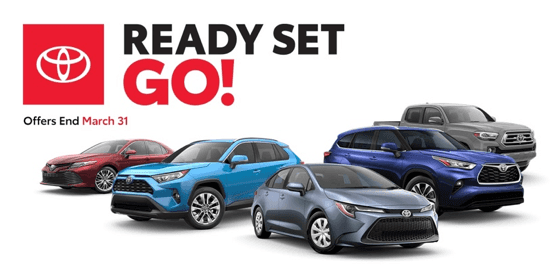 South Dade Toyota
0% Financing
| | |
| --- | --- |
| '20 Corolla + Hybrid | '19 Highlander |
| '19 Prius | '19 4Runner |
| '19 Camry | '19 Tacoma |
| '19 C-HR | '19 Sequoia |
| | |
Special 36* Month Lease Programs
Sedans and Hatchbacks

2020 Corolla Hatch

$219 per month / $3,218 due

2020 Corolla

$179 per month / $2,878 due

2020 Corolla Hybrid

$249 per month / $2,948 due

2020 Camry

$219 per month / $3,518 due

2020 Camry Hybrid

$229 per month / $3,528 due

2019 Prius

$249 per month / $3,248 due

2020 86

$350 per month / $3,349 due

2020 Avalon

$429 per month / $3,728 due

Crossovers, SUVS, and Trucks
2020 C-HR

$239 per month / $3,238 due

2020 Tacoma

$229 per month / $3,528 due

2020 RAV4

$249 per month / $3,548 due

2020 Highlander

$239 per month / $3,538 due

2020 RAV4 Hybrid

$349 per month / $3,648 due

2020 Tundra

$319 per month / $3,618 due

2020 Sienna

$379 per month / $3,678 due
2 year / 25,000 mile No-cost Maintenance Program
when you purchase or lease a new Toyota vehicle.
U.S. Military, Active Duty & Retirees, and Eligible Family Members receive up to $500 off! College Grads receive up to $500 off!
With Approved Credit for full and limited term. Cannot combine with other offers. APR must complete sale and delivery between March 3, 2020 and March 30, 2020. Ask our associates for more information.