2020 Toyota Tundra: Redesign Release Date, Engine, and Colors

2020 Toyota Tundra Release Date
Toyota has been a leader in the world's market for affordable cars and SUVs for a long time now. One of our more recognizable and longest-running full-size trucks would be the Toyota Tundra. Although neglected in the past, the Toyota Tundra will be undergoing a slight redesign towards the end of its 13th model year. This redesign release date is uncertain but much anticipated probably late 2020 or early 2021.
Get Ready for Big Changes on the 2020 Toyota Tundra Engine
Rumor has it that the biggest changes will be made to the touchscreen navigation and they will now include Apple CarPlay and Android Auto. The all-new 2020 Toyota Tundra is said to feature larger screens. The SR model will contain a 7" touchscreen while other grades will have 8" screens. When choosing a car, one never had to question if it will come with a key or not. Now 2020 Toyota Tundra models, SR5 and above, will have keyless entry and push-button start.
Toyota will no longer be making the 4.6-liter V8 engine for the 2020 model, in fact, we are only keeping the 5.7-liter V8 engine this coming year. The concept of a 5.7-liter V8 engine is appealing mainly because of its ability to have a towing capacity of 10,200 pounds and a maximum payload of 1,730 pounds. Something else to note is that we are adopting a hybrid powertrain featuring a 3.5 liter turbocharged V6, with both an electric motor and lithium-ion battery pack. The Tundra TRD Pro will have an extended double cab which only recently returned in 2019. In addition, we will still have the CrewMax cab feature. With 2 different cab configurations, there will surely be a Tundra for everyone!
Your Favorite Colors are Here to Stay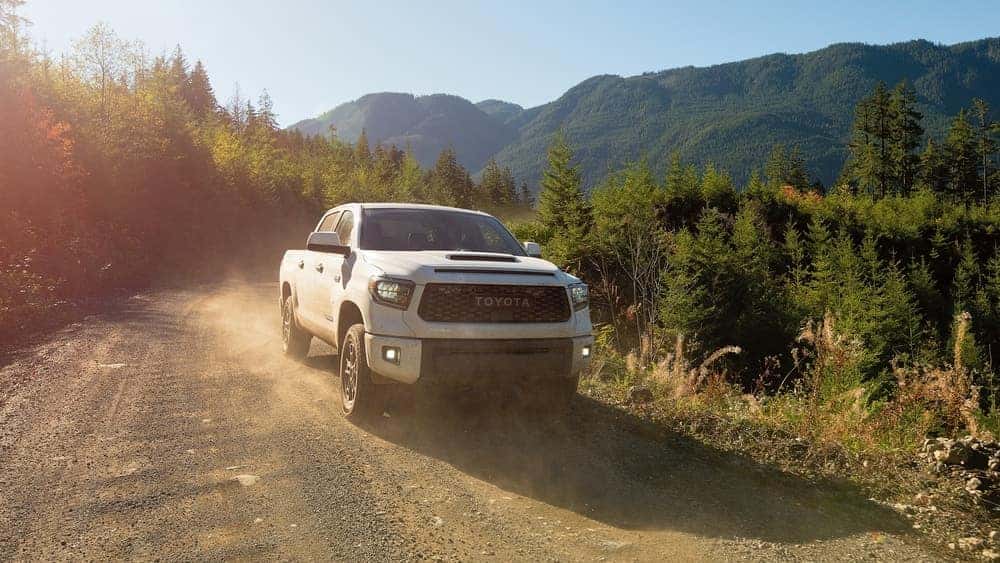 A good paint job is one of the most important parts of a car beside the engine. The paint can be the difference between a luxury car or an average one. As for color changes in the new 2020 Toyota Tundra, Voodoo Blue will be here to stay. Unlike the 2019 Tundra, this color will be available in more grades and play a bigger role in our favorite line of trucks. Although Army Green is a color that is well-loved in various Toyota makes and models, we may include it in this redesigned line of Tundras.
The Toyota Tundra Has the Best Safety Features
No doubt the 2020 Toyota Tundra will top its standard safety of the previous years. These safety features include a preclusion system with pedestrian detection, lane departure alert, dynamic radar cruise control, and automatic high beams. When the preclusion system is activated the driver is prompted by an audio and visual alert and brake assist may be activated. The lane departure alert uses a vehicle camera that detects the yellow and white line markers on the road. This system is able to determine that the vehicle is starting to deviate from the lines and will assist the driver with audio and visual alerts. The most interesting safety feature is the radar cruise control because not only will it allow the driver to cruise at a certain speed, it is intelligent enough to gauge the distance between the Tundra and the car in front of it. This is all thanks to in-vehicle camera design and radar placed within the front grill. The 2020 Toyota Tundra will feature eight standard airbags, including driver and front passenger seat-mounted airbags just like the 2019 model.
2020 Toyota Tundra TRD PRO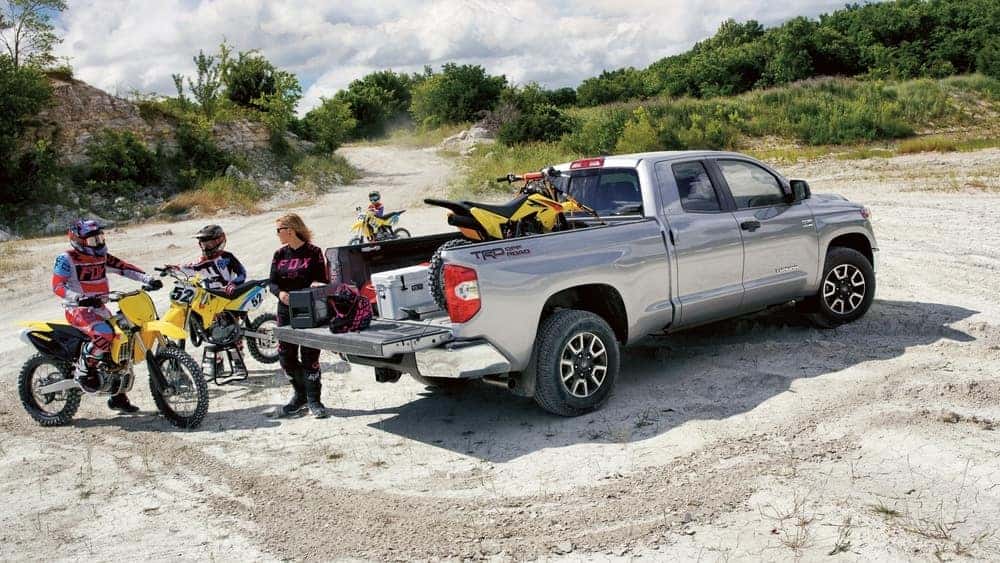 The Tundra TRD Pro will more than likely keep its Rigid Industries LED fog lights and its heavy-duty front grill. The TRD Pro will maintain its distinctive look including its branded logs in the seat side panels.
When driving a Tundra, you may forget that you're in a truck! The smoothness of the ride could be compared to any luxury vehicle, but the exterior isn't to be messed with. This truck is tough and ready for an adventure.
We are Proud to be Your Toyota Dealer
Here at South Dade Toyota, we want to go on that adventure with you. We've been in business since 2009 and we always have one thing in mind, our clients. Great service and satisfaction are our top priorities. We strive to be the best Toyota dealership not just for ourselves but for our community. Come view the latest model of the Toyota Tundra and check out the redesign for yourself. Let's Go Places!