What Are The Best Toyota Lease Deals Of 2020 In Miami?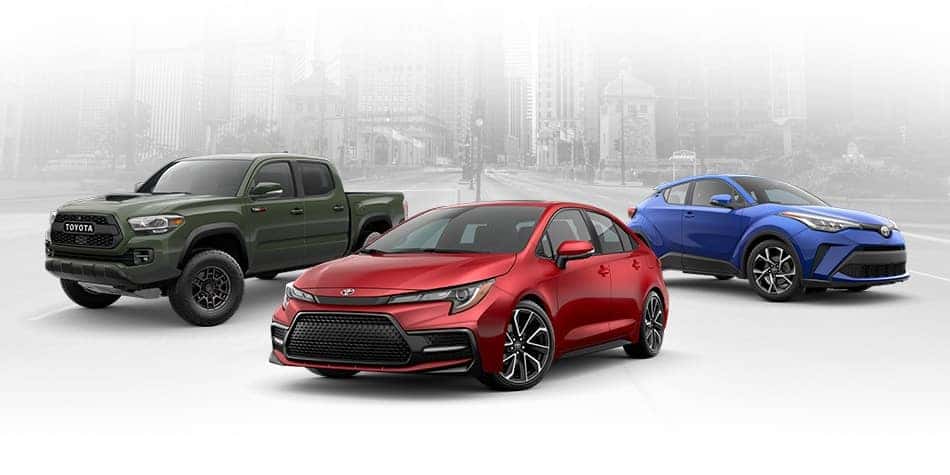 Here at South Dade Toyota, our goal is to cater to our customers. Not only do we offer the best Toyota lease deals available to our branch, but we also look forward to assisting you on the road and throughout your vehicle's life.
We offer both new and used cars. If you're looking for a brand new 2020 Toyota, look no further. Right now we have new exciting and affordable lease offers for our newest products. Just find the model that suits you best and let us do the rest to have you driving your new Toyota in no time.
We present you the best Toyota lease deals for 2020 in Miami:
New 2020 Avalon XLE (Non-Hybrid) Lease from $398 per month / 36 months
All Avalon models come with a 3.5-lt V6 engine, six-speed automatic transmission, and front-wheel drive. Currently, new Avalon models come with Toyota Safety Sense, so if you're looking for one of the newest and more sophisticated models we have at South Dade Toyota, these deals on the Toyota Avalon are perfect for you.
New 2020 Highlander LE (Non-Hybrid) Lease from $285 per month / 36 months
The Highlander is perfect for families, mainly because it is easy to drive and has vast amounts of inner space. It comes equipped with several USB ports which will be a delight for the kids. The Highlander also comes equipped with Toyota Safety Sense, which is ideal for making sure that your little passengers are exposed to the minimum amount of danger when going for a ride.
New 2020 RAV4 LE (Non-Hybrid) Lease from $285 per month / 36 months
Versatile is what most buyers say about their new RAV4. Compared to 2019, this year's model had a revamped interior and added comfort features that make it feel like a truly luxurious ride. The RAV4 is one of the few Toyota vehicles that can fit virtually any client's practical needs.
New 2020 Prius Liftback One Lease from $264 per month / 36 months
The new Toyota Prius is a champion of comfort, simplicity, and fuel economy. Although some might say that it is small, it is because they most likely have not hopped on a new Prius. The 2020 model was significantly improved compared to its 2017 predecessor. With increased cabin and cargo room, the Prius gives much more than what it is given credit for. If you would like a vehicle that will pay back its cost through saving gas look no further and take advantage of our lease deals on Prius models.
New 2020 Corolla LE Lease from $154 per month / 36 months
The Corolla is an ideal vehicle for young adults, besides being one of Toyota's models designed for putting behind the competition when it comes to affordability and ease of use. The 2020 Corolla comes with the latest safety features, LED headlights, cameras, and many other features that are almost never found in an entry-level sedan. After 43 million Corollas have been sold, South Dade Toyota is proud to offer lease deals on this timeless model, a favorite for those that are looking for a vehicle to rely on.
New 2020 Sienna LE Lease from $409 per month / 36 months
The Sienna is a great minivan with the unusual addition of four-wheel-drive traction. It's perfect for families and is one of Toyota's most successful models in the minivan niche. Compared to previous years, the 2020 Sienna had its exteriors upgraded and its tech features made easier to use by the driver. The Sienna LE has heated mirrors, user consoles, powered driver seat, and HD and satellite radio.
New 2020 Camry Hybrid LE Lease from $248 per month / 36 months
New 2020 Camry LE (Non-Hybrid) Lease from $210 per month / 36 months
The Camry is Toyota's premier 4-door midsize vehicle. It is comfortable, modern, and very pleasant to drive. Most noteworthy, the Camry meets every expectation for a vehicle of its kind, only that its design seems to lean back on luxurious assets, relying on its elegance to make an impression on potential buyers.
New 2020 86 Lease from $329 per month / 36 months
The 86 draws inspiration from past sports models. It is a powerful two-door vehicle with increased maneuvering abilities. By looking at it, one can only think about speed and lightness. Getting a 2020 Toyota 86 with performance tires might be just what you need to dive into the world of sports cars. Consequently, you will experience what it means to drive a great ride thanks to our affordable lease deals. Go ahead and schedule a test drive with our sales associates
New 2020 Yaris Lease from $157 per month / 36 months
The new Yaris is another contestant for the best 2020 cars in the affordable and compact branch of Toyota. The Yaris is economical, yet comfortable enough to make you reconsider if this could be the car of your dreams. With its safety features and user interface, the 2020 Toyota Yaris is a step in the right direction if you're looking for a car that will not let you down despite its low price. For clients that drive in urban settings and that are looking for a car that's simple yet reliable, the Yaris is the ideal choice.
New 2020 Tacoma Double Cab SR5 V6 Lease from $269 per month / 36 months
The 2020 Toyota Tacoma meets the needs of those that need to carry goods while owning a vehicle that can serve both as a work companion and a tool. Functionality is what the Tacoma offers, as its suspension system will not quail when going into rough terrain. It has an internal system to deal with bumpy terrain even at high speeds. Additionally, the Tacoma is designed to economize on fuel. Although some may argue that this choice makes it lose some power, the Tacoma's performance on any type of terrain quickly proves otherwise.
New 2020 Tundra Double Cab SR5 Lease from $359 per month / 36 months
The Tundra is Toyota's full-size pickup. If you're looking for power, size, and a lack of obstacles, then this truck is exactly what you need. Unlike many others, the 2020 Tundra Double Cab SR5 is a pickup with plenty of room inside its cabin. Also, the Tundra is capable of performing exceedingly off-road with its V8 engine while pulling over 10,000 pounds of cargo. The SR5 comes equipped with an upgraded user interface with a 7-inch touchscreen, an overhead console, powered driver seat, and a larger gas tank compared to the base 2020 Toyota Tundra SR rim cut.
New 2020 4Runner SR5 Lease from $425 per month / 36 months
When off-road adventures are not a primary concern, but rather a hobby, the 4Runner suits best. It perfectly fills the void between Toyota's dedicated off-road vehicles and its suburban-oriented models. As a result, the 4Runner is also priced to beat the competition. The SR5 trim is the base model. It has a 4.0-lt V6 engine and is able to pull up to 5,000 pounds of cargo, it is also available in both two and four-wheel-drive configurations. The SR5 comes equipped with a camera, fog lights, 12-volt and 120-volt power outlets, and optional third-row seats.
New 2020 C-HR XLE Lease from $198 per month / 36 months
Finally, we have the 2020 Toyota C-HR, which is is a head-turner when it comes to looks. It is a comfortable and luxurious model that shows how Toyota is able to deliver a cost-effective, yet affordable vehicle to its customers. Consequently, the 2020 Toyota C-HR is a small SUV designed to serve as a lower RAV4 with a much more modern feel to it. It is a 5-door car that looks like a coupe, although it shares the Prius' interior architecture, making it a delight to drive in any situation. The C-HR lets the driver cut corners and worry little about the road, as the SUV is designed to ease its driving.
In conclusion, these Toyota lease deals for 2020 may not be combined with other offers. Still, do not hesitate to reach out to your South Dade Toyota dealership as we will gladly help you get the model that you desire.
For more information, please call our sales department at 786-259-6472