How To Keep Your Car Clean and Disinfected From Coronavirus (COVID-19)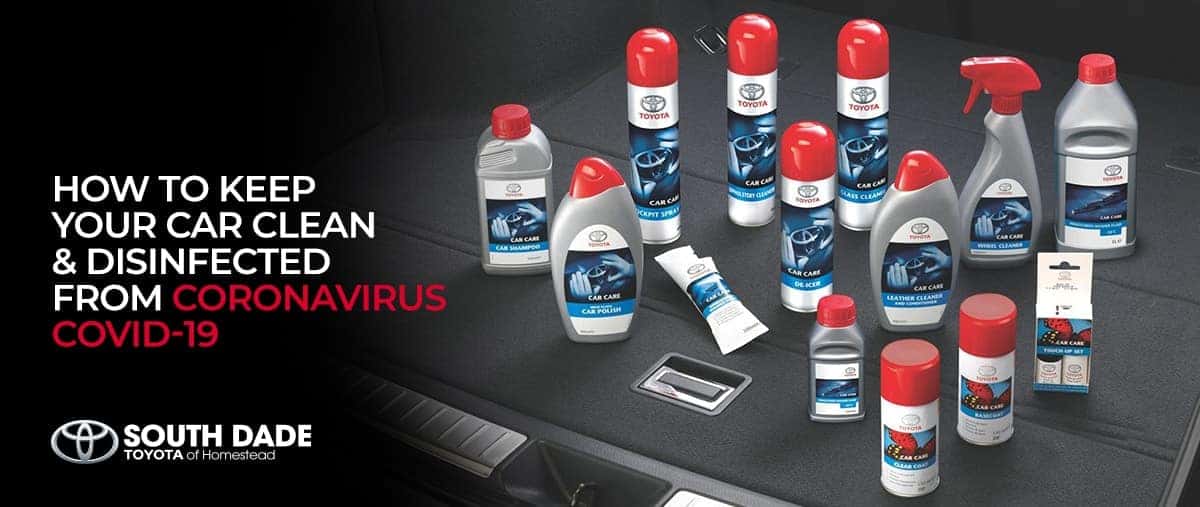 According to the Centers for Disease Control and Prevention (CDC), you're most likely to contract coronavirus by coming into close contact with an infected person or by touching a surface that has the virus on it.
The coronavirus pandemic has put everyone at risk. Even young, healthy people can contract the virus and experience severe symptoms. Because the virus is so contagious, it's crucial for you to take preventative measures to protect yourself and your loved ones from the disease.
For starters, you need to disinfect surfaces that you frequently touch. Examples include your phone screen or the doorknobs in your house.
But what about your car? Have you overlooked the surfaces inside your vehicle, like the steering wheel, door handle, and center console? You touch those surfaces every time you drive somewhere.
If you want to stay healthy, you can't forget to disinfect your vehicle. When you step into your car, you run the risk of contaminating every surface you touch. Recent studies have shown that coronavirus can live for days on certain surfaces.
If you drive often, you must make sure your car is clean and germ-free! Especially if you are a taxi or rideshare driver, you need to disinfect your car daily to prevent the spread of coronavirus. Some infected persons may be asymptomatic, so you don't always know who has it.
We created this guide to share some tips on how to properly disinfect your car without damaging interior surfaces.
How to keep your car clean from coronavirus
Be sure to put on a mask and gloves before you start cleaning. You don't want to run the risk of getting sick while you're disinfecting your car. That defeats the whole purpose!
Vacuum it out
Although vacuuming doesn't directly protect against coronavirus, it's the best way to remove crumbs, small objects, or dust from your vehicle. If you're taking the time to disinfect your car, you might as well make sure it looks clean too!
Disinfect all surfaces
When you disinfect your vehicle's interior, be gentle! Too much friction can cause damage. Make sure you clean all the surfaces you frequently touch, such as the steering wheel, door handles, dashboard, center console, and touch screen.
Try to avoid letting excess water pool anywhere inside the car. Thoroughly dry everything after applying your cleaner to avoid damage, discoloration, and moisture buildup underneath surfaces.
Which cleaning materials to use and which to avoid
Cleaning the inside of your vehicle doesn't have to be a complicated process. Dish soap or mild detergent combined with water will work just fine!
According to the CDC, a cleaner must have 70 percent alcohol or more in order to be effective against coronavirus. Check the label of your cleaner to assess its contents.
You can apply the detergent with a washcloth, or if you have a microfiber towel handy, that's even better. The fine fibers in a microfiber towel will ensure that you don't leave any dust or dirt behind. It will also be gentler on the surfaces inside your car.
Alternatively, you can use interior car care products if you have them already. As long as your cleaner is approved for use on the specific materials inside your car, you can apply it.
Avoid ammonia-based cleaners, bleach, and hand sanitizer. They could damage the surfaces inside your car. However, we recommend you clean your hands with hand sanitizer frequently!
Best practices for preventing the spread of coronavirus
Once your car is clean and germ-free, it's important to follow best practices to avoid the spread of coronavirus.
The CDC suggests that you:
Wash your hands often
Avoid close contact with others
Wear a cloth face mask when you go outside
Cover your mouth when you cough or sneeze
Regularly disinfect surfaces you touch often
Although it's safest to stay home, we realize that's not always possible. If you have to go to work or pick up essentials from the store, you might need to get in your car and drive somewhere.
Make sure you wash your hands before and after driving to avoid contaminating your vehicle. By being proactive, you can reduce your chances of contracting coronavirus and spreading it to others.
We suggest you bookmark this blog post for later so you know how to properly disinfect your car daily, weekly, or however often you need to. Share this post on social media to inform your family and friends about the importance of disinfecting their vehicles!
At South Dade Toyota, we're doing everything we can to preserve the health of our community in the midst of this pandemic. We urge you to take precautions and follow protocol to protect yourself and your family in this uncertain time. We hope you're staying safe!