Top 10 2019 Best Resale Value Cars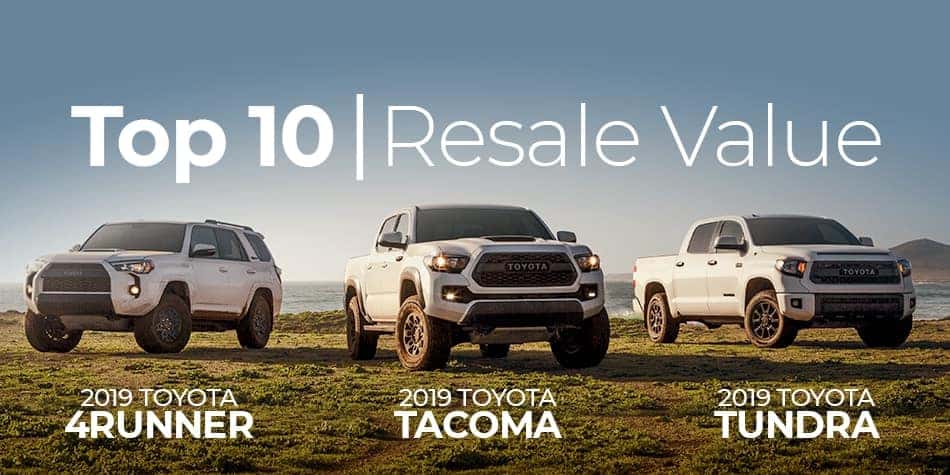 Shopping for a new car typically comes with extensive planning and thinking about the future. When it comes time to go car shopping, considering the future resale value should be part of your "important features" list. Researching the best resale value car brands can help you immensely in your search and when it comes time to sell your vehicle in the future.
Toyotas hold some of the best resale values for their various models. This is immediately evident when researching cars with high resale values. Where should you begin your search? Kelley Blue Book is a great starting point. This trusted website is a go-to for consumers and dealers alike.
Kelley Blue Book recently posted a Top Ten list of 2019 Best Resale Value Vehicles. Toyotas make three separate appearances on this list for having models that hold their value through the years. According to Kelley Blue Book, the Toyota 4Runner, Toyota Tundra, and Toyota Tacoma are among the best vehicles to purchase for their resale value.
#1: 2019 Toyota Tacoma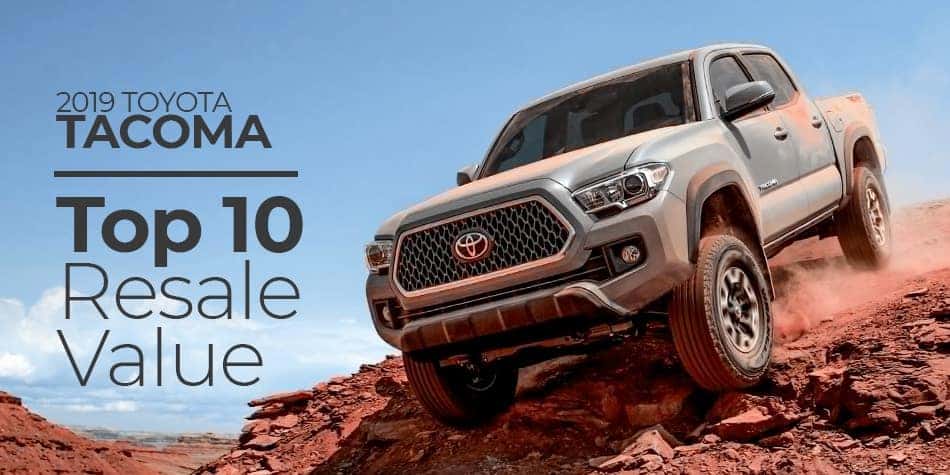 The Toyota Tacoma takes the #1 spot and award for 2019 Best Resale Value! Not only has it earned the coveted number one spot for 2019, but this Toyota model has also taken over first place for five years straight. The quality is evident when experiencing this workhorse pickup truck. It adapts to consumers wants and needs while upholding its exceptional resale value. Base price for this model starts at $26,795. APR financing is 0% and leasing will cost around for the Tacoma $264/month lease. Its resale value is estimated at 69.4% at 36 months and 62.2% at 60 months. As soon as you experience this double cab pickup, it'll quickly become evident where its popularity and strong resale value stem from.
#3: 2019 Toyota Tundra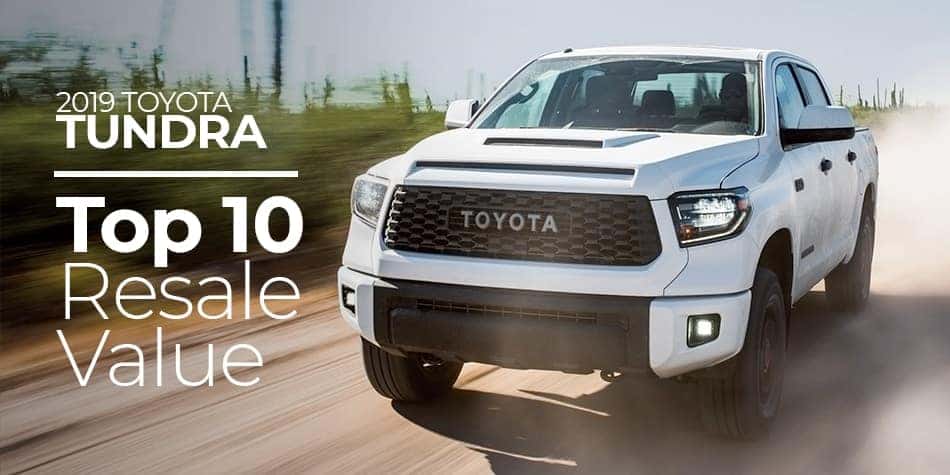 The Toyota Tundra comes in at #3 on Kelley Blue Book's 2019 Best Resale Value list. This full-size pickup truck has held its value year after year, and 2019 is no different. Base price for this truck starts at $32,615. APR financing is 0% and leasing options will cost you for the Tundra $349/month lease. Its resale value is estimated at 66.6% at 36 months and 56.9% at 60 months. This Toyota model is an exceptional choice for individuals in the market for an ultra-tough and reliable pickup truck.
#5: 2019 Toyota 4Runner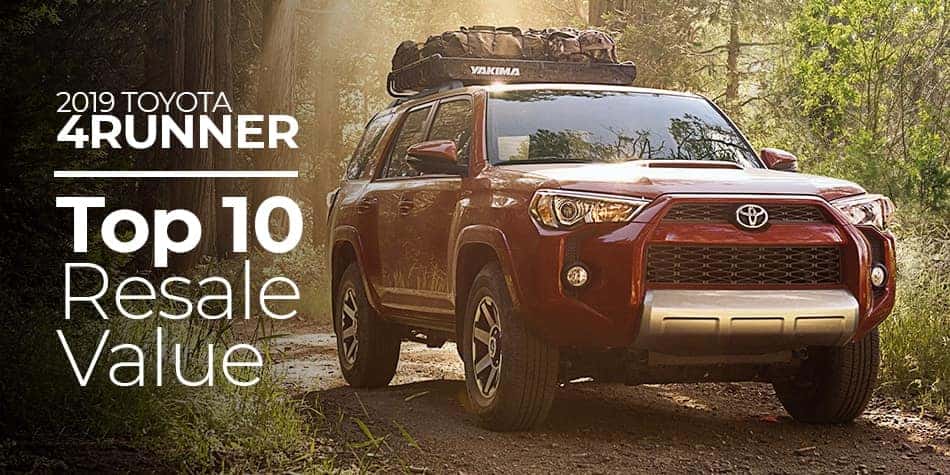 The Toyota 4Runner makes its appearance at #5 on the list. While this model has been recognized as a vehicle with exceptional resale value, it holds firm on the list in 2019 due to a loyal following and rising sales. Base price for this model starts at $36,205. APR financing as low as 3.9% and leasing options you'll be looking for the 4Runner at $419/month lease. Its resale value is estimated at 65.7% at 36 months and 53.7% at 60 months. The Toyota 4Runner has serious off-road capabilities with comfort for up to seven. It's a serious contender for anyone looking for the perfect SUV.
Top 10 List of Best Resale Value Cars of 2019
#1 2019 Toyota Tacoma
#2 2019 Jeep Wrangler
#3 2019 Toyota Tundra
#4 2019 GMC Sierra
#5 2019 Toyota 4Runner
#6 2019 Chevrolet Silverado
#7 2019 Honda Ridgeland
#8 2019 Chevrolet Colorado
#9 2019 Ford-F Series
#10 2019 Porche Macan
Another trustworthy source for researching the best resale value car brands is U.S. News and World Report. They recently posted an article profiling the best cars for your money in 2019. Among this list of 14 vehicles, two Toyota models were featured for their outstanding resale value. In no particular order, the Toyota Camry and Toyota Avalon Hybrid were included in this list.
2019 Toyota Camry "Best Midsize Car For The Money"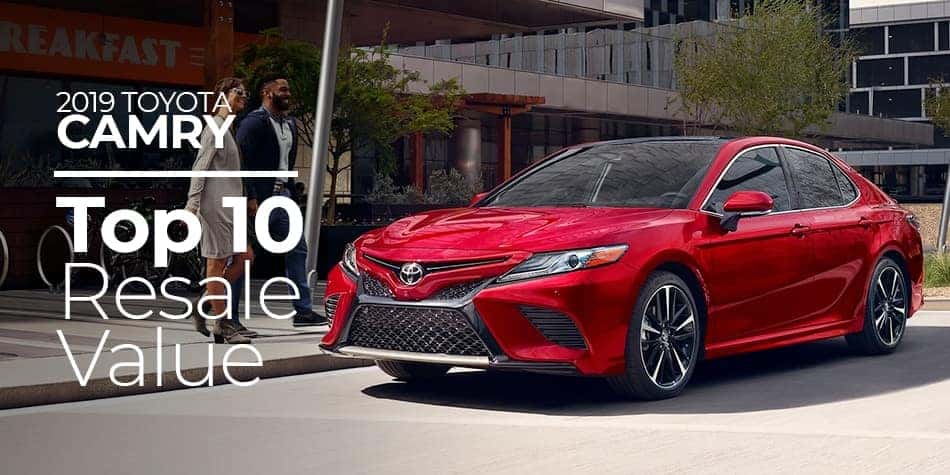 The Toyota Camry was awarded "best midsize car for the money." The Camry has won this award six times on U.S. News and World Report. Among its standout features, the Camry continues to win this award for its space and performance. Its wonderful standard safety features are also something to consider. The base price for this model starts at $24,940, with APR financing being 0% and leasing options costing for the Camry $199/month lease. Anyone in the market for the ideal midsize vehicle should surely consider the Toyota Camry.
2019 Toyota Avalon Hybrid "Best Large Car For The Money"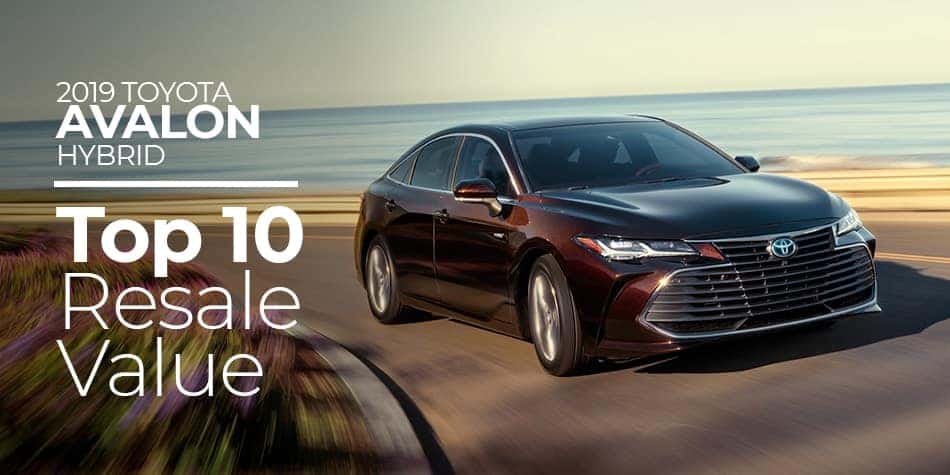 The Toyota Avalon Hybrid was awarded "best large car for the money." This Toyota model features an interior that mimics that of a high-end luxury vehicle while offering the most space and comfort for passengers. This hybrid model also gets 44 highway miles per gallon – a huge convenience and money saver. The base price starts at $37,545, APR financing is 0.9 and leasing options will cost for the Avalon $388/month lease. This vehicle has a higher starting price than some other large car options but ends up having lower five-year total ownership costs. Pair this with its resale value, and it's a win-win!
Doing your research and becoming familiar with the vehicles that offer the top resale value is crucial when car shopping and thinking about the future. While it may not seem important now, it will be when it comes time to sell your car and move on to a newer model.
Keeping your car in the best shape and getting it serviced are recommended to preserve your vehicle's resale value. Toyota offers ToyotaCare and other services that ultimately help you keep your car in tip-top shape, ready for reselling. If you're considering a Toyota, looking into these offered services are highly recommended.
Buying a car can be a daunting task. But conducting the proper research and getting educated on different car brands and what they have to offer is imperative for making the best choice to suit your wants and needs. Cars with higher resale values will get you more money in your pocket in the future, giving you the funds to purchase your new car. Do your research – your future self will thank you!