What to Do After a Car Accident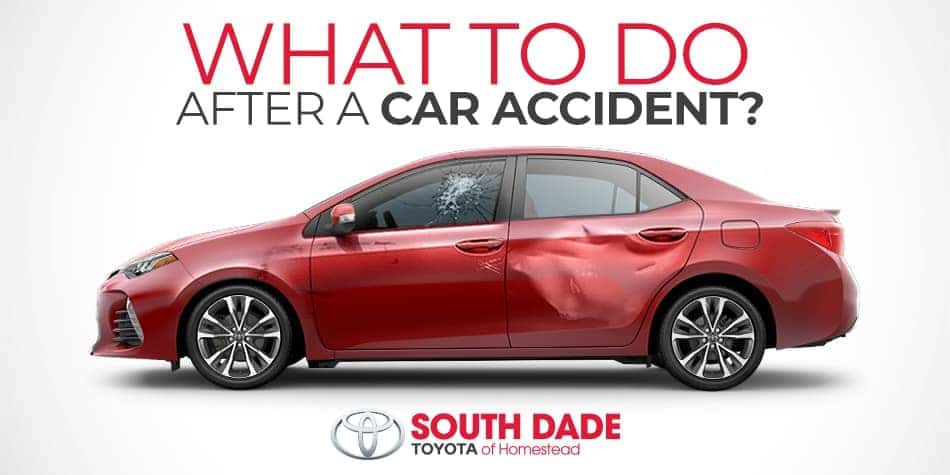 Did you know 9 Toyota vehicles were named "Top Safety Picks" by the Insurance Institute for Highway Safety in 2017. Toyota strives to be the worlds safest car because there is nothing more important than the lives of the people who drive with us. Toyota is always evolving to fit the needs of the road and all the people who travel on it. Yet, life throws us unexpected curveballs and that sometimes includes vehicle accidents. Fortunately, out of the 6 million car accidents a year most of them only include property damage. Here are some things you need to know if you have been in a car accident.
Always Stop
Perhaps the most important thing to do after an accident is to stop. Never drive away from the scene. By stopping, you are saving yourself from having many legal complications.
Watch What You Say
Regardless of liability, never say the car crash was your fault. In the event of a car accident, only exchange insurance information. Never accept fault at the scene and always treat the other driver involved respectfully. Raising your voice and making accusations will not make the process any easier.
Call the Police
After the accident, put your flashers on so many cars passing by will identify your disabled car. Then, even if there are no serious injuries, call the police. You may need to file a police report to claim with your insurance company. Keep the vehicles where they are and preserve the scene so the police can make an accurate assessment.
You Have an Ally
Always remember to treat law enforcement as an ally. It will be a relief to know that determining fault will be out of your hands. Police are there to keep you safe and delegate all information. When speaking to an officer after a car crash remembers to tell the officer what direction you were headed in and any signalling you might have seen such as a turn signal. Most importantly, be honest when giving a statement. The officer is your friend in this case and a reliable, unbiased third party.
Remember What Happened
Once the police arrive, make sure to say exactly what happened. This is very important because it will come into play with your insurance company. If you are not sure what happened, make sure to say that to the investigating officer. Do not speculate or misstate any of the facts. If asked if you are injured and you are not sure, never say no. This is because in many cases injuries from auto accidents become known hours after the accident occurred.
Take Pictures
It is important that if possible, you take pictures at the scene of the car crash for your record. If you have visible injuries, you should also take pictures of them.
Exchange Information
Most of the time, the investigating officer obtains information from both parties involved. However, if the police do not respond to the accident you may need to do this yourself. In this case, obtain the other driver's name, address, telephone number and insurance information. If there are any witnesses make sure to get their contact information in case your insurance company should contact them in the future.
Report the Accident
As soon as possible, notify your insurance company. Many police require immediate reporting of the accident and full cooperation.  It is also important you find out what type of medical benefits your insurance provides. If you pay extra for "medpay" insurance, make sure you use it. Also, make sure to submit all accident-related medical bills. Seeking medical attention is very important even if you don't feel like you got injured. You may not feel pain up to even two days after the accident. Even minor collisions can have serious repercussions such as damage to your spinal cord. If you lost consciousness or were even dazed for a short period of time you may have obtained a head injury.
Keep a File
Keep all of your documents and information together. Every picture, police report and the medical bill should all have a save file that you can go back to for reference. This information should include claim numbers, name and phone numbers of all contacts and even rental car expenses if applicable.
Protect Yourself
If you have the opportunity, speak to an attorney following the accident. Your attorney will protect your rights and make sure everything is handled properly. Receiving legal advice before making an insurance statement will only be beneficial to you. You can receive information on issues ranging from getting fully compensated for your vehicle to getting the best medical treatment. 
Let's Go Places, Safely!
At South Dade Toyota, we take the topic of safety very seriously. Which is why we have been named the IIHS Top Safety Pick so many years in a row. Our 2019 Corolla Hatchback, Highlander and Prius are just a few of the cars that have received safety awards this year! We are proud to be your Toyota dealer and strive to make wherever you're going, a safe trip. Being able to freely travel on the open road is something we stand for and will always protect. We will always strive to be the best Toyota dealership not just for ourselves but for our community. Being one of the safest vehicles on the road will help us get there. Let's Go Places!